Group Chatting vs. Privately Talking (Key Differences)
Group Chatting vs. Privately Talking (Key Differences)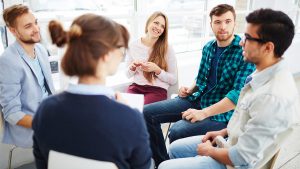 When talking online, you have the option of using private sites that put people into intimate situations. Then group chat rooms have multiple users discussing topics at the same time.
So, which type is better? Well, neither is better or worse…
Instead, it's simply that one might be better suited to your personality or mood at the moment.
---
Making Friends
Private:
In a one-on-one chat room, you won't be able to make a large volume of friends, but you will be able to make intense and deep friendships. You get to talk to someone without other people interjecting on your conversation. You can really get to know someone in a way that you just can't when other people are around! It creates long-lasting, strong friendships.
Group:
In a group chat, you will have the opportunity to make a higher volume of friends. If you want a group of friends to shoot the breeze with, this is probably the best option for you. However, it won't be private and you won't be able to have chats on intimate topics without other people butting in or lurking and viewing your conversation.
---
Taking it Further
Private:
If you are looking for something a little romantic or sexy, a one-on-one chat room is a good place to be. This is where you can have the privacy to be more vulnerable and also let loose a bit. You can turn on your video chat or your audio chat to get your rocks off if you want to experiment with online sexy chat. It's hard to do this in a group chat because everyone is watching!
Group:
A group chat is where you can go to meet people who you might be interested in. But keep in mind many people don't want to get hit on in a group chat. They just want to go about living their life. However, if the topic of the chat is something sexy then you can go for the flirt. Meet people in a group chat and then take them private if you want to take things further.
---
Why Choose?
When you are in a one-on-one chat or using an instant messenger system, you can often add people of your choice to make it a group chat. Of course, this is different than a chat room. Additionally, in a chat room, you can often direct message people for a private chat.
So in a way, you don't exactly have to choose between a group chat and a one-on-one chat. However, you can! There are definitely sites that are specifically for one or the other. Make your choice and have a good time online.
---
About The Author. — Chatshort is an expert in communication and contributor to Joingy, a chat app to meet strangers. Visit their Official Blog for guides on similar chat topics.